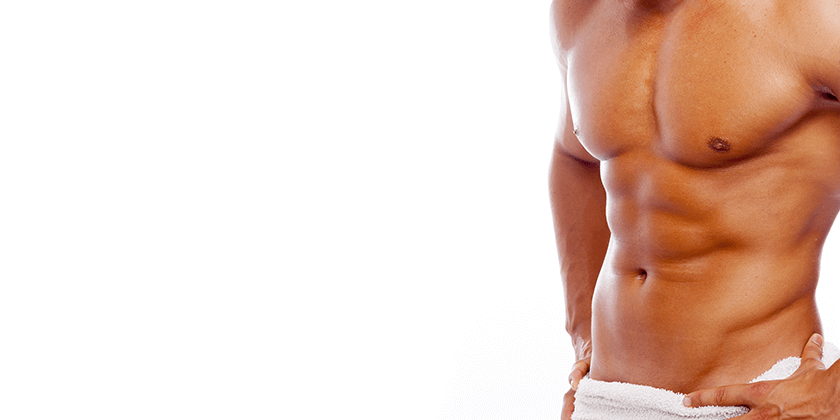 VASER liposuction procedures are becoming more and more popular due to the ease and speed of having them done. They are less invasive, quicker and less painful than other, older methods of liposuction.
So why is this particularly good for those wanting to define their abdominal muscles better? Well, six-pack abs can be notoriously difficult to get, as some people will have stubborn fat deposits in areas near the abdomen. The lower stomach is known to be one such area for both men and women.
Vaser Lipo is best for abs
The precise nature of a Vaser procedure makes it ideal for six-pack abs. This is an area where specific parts need fat removal, in order to sculpt the shape desired. Your surgeon will need to be skilled in this procedure, and should have experience with this particular process. The fat along the natural lines of your ab muscles should be removed to create the desired appearance. One area of your stomach may have more fat than others, this won't affect the surgery.
Vaser allows the level of precision you require to have this surgery, as it can be done in very small areas with a great degree of accuracy. When fat cells are removed with this process, they are removed permanently. Keep in mind however, not all cells can be removed, and those that remain do have the potential to grow if your body requires the fat storage. This will happen if you have bad eating habits, so you need to change those right away as well. Your surgeon can advise on after-surgery care.
Are you ready or not?
Another consideration is whether or not you are ready for this procedure. For ideal results, you should already have good muscle tone and get regular exercise. It's also advantageous to have a good diet already. Fat over the abdominals as a whole can also be removed, though without abdominal muscles built up underneath, it will be tough to get great results. You don't have to be mega-fit, you just need a base to build on.
Contact a surgeon to consult on if this is appropriate for you now, or whether you might need to get more exercise in first. Once you're ready, you can get booked in and go ahead with the procedure itself.
Vaser process
This will involve your surgeon liquefying fat in the desired areas, before sucking it out with a small cannula. You will need some recovery time after a procedure like this. The normal recovery time is around a month, and improvements are usually seen from as little as two weeks after the procedure.
The reason it takes a little time to see results is that your body will be adjusting to its new shape. Skin around the treated area will be looser, because fat has been removed from underneath it. Your skin has a natural tightening process that it will go into at this time, so the skin will gradually shrink down and adjust to your new shape. The abdominal muscles and areas around them are likely to be sore for a while, and you shouldn't be exercising during the first month post-surgery.
There may be some weird feelings during this adjustment process too, your stomach may feel overly hard or tender at times. All of this will gradually settle down, and return to normal. Improvements made usually improve over time as well, with the best effects being seen 6 months to a year after the surgery.