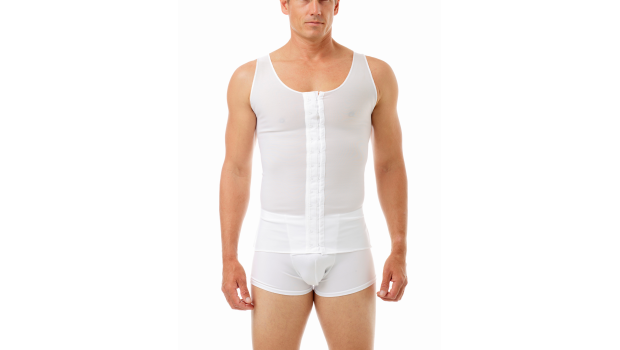 For many of our clients, one of the first questions they ask about is about the vaser recovery time – and anything they can do to ensure the recovery process is as smooth and successful as possible.
One of the key things that patients can do to improve skin recovery is wear a compression garment. By applying a consistent external pressure on deep tissues, this lessens the chance of post-surgery complications – though with Vaser, the chances are already minimal. Read on to discover why you should wear compression garments after liposuction procedures.
What do compression garments do?

During the Vaser procedure, ultrasound energy is used to turn fat into liquid, which is then drained off using tiny little cannulas strategically placed around the area. Naturally, this means that there is a space between the skin and the muscles, where the fat used to be. By compressing this area over the first few weeks, patients can avoid fluid build-up.
The compression garments also help to achieve the desired results more effectively. By keeping the area nice and compressed, this helps to minimise the chances of skin sagging, as well as reducing the risk of unwanted creases forming. By holding the skin in place and supporting it with the compression garment, the area is given all of the help it needs to heal naturally and beautifully.
How long should I wear it for?

You should wear your compression garment for 24 hours a day – though it can be taken off when you need to bathe or take a shower. You should wear it for at least a few weeks after the procedure to make sure the area has adequate time to heal and adapt to its new shape.
If your Vaser procedure was conducted on the abdominal area, you'll need to wear foam padding under the compression garment for a little extra support. This will ultimately help to make the contours of your body even more defined when you eventually show off the results to the world!
My compression garment is too big! What should I do?

One of the most exciting things about Vaser liposuction recovery is the results can continue to improve for weeks after the initial procedure. The ultrasound energy can continue to turn fat into liquid for a few weeks, and the body naturally drains it off. This means that the compression garment you're initially given might not fit after a few weeks, as your body shrinks even further!
If you've found that your compression garment is no longer offering the support you need, that means the procedure has worked! You should also see your clinic to get a replacement and ensure that it's as tight and supportive as possible.